Recommendations
East West understands that each client have different interests and preference. Listed below are tour and package selections that will help you in planning your itinerary. These items are grouped according to the type of experience you have selected.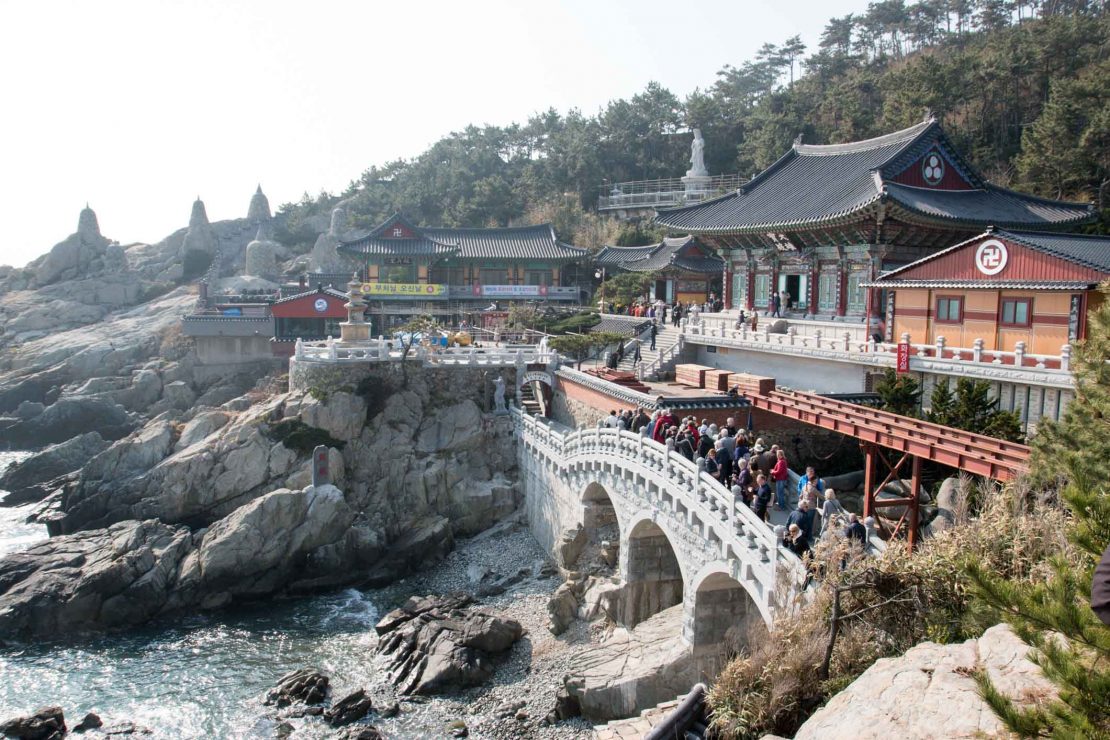 Day Trip to Busan
Busan, a large port city in South Korea, is known for its beaches, mountains and temples. Busy Haeundae Beach features the Sea Life Aquarium, plus a Folk Square with traditional games such as tug-of-war, while Gwangalli Beach has many bars and views of modern Diamond Bridge. Beomeosa Temple, a Buddhist shrine founded in 678 A.D., is at the base of Geumjeong Mountain, which has hiking trails. The day trip will be aboard the KTX express train (2 hours per way).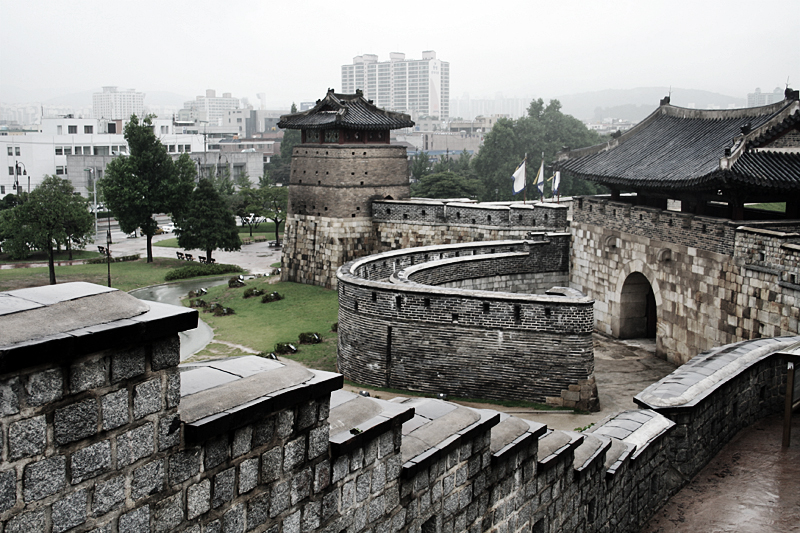 Korean Folk Village & Suwon Hwasung Fortress
Living-museum village showcasing traditional Korean homes & customs, plus dining & a theme park. Hwaseong Fortress or Suwon Hwaseong is a fortification surrounding the centre of Suwon, the provincial capital of Gyeonggi-do, in South Korea. It was built from 1794 to 1796 by King Jeongjo of the Joseon dynasty to house and honour the remains of his father, Prince Sado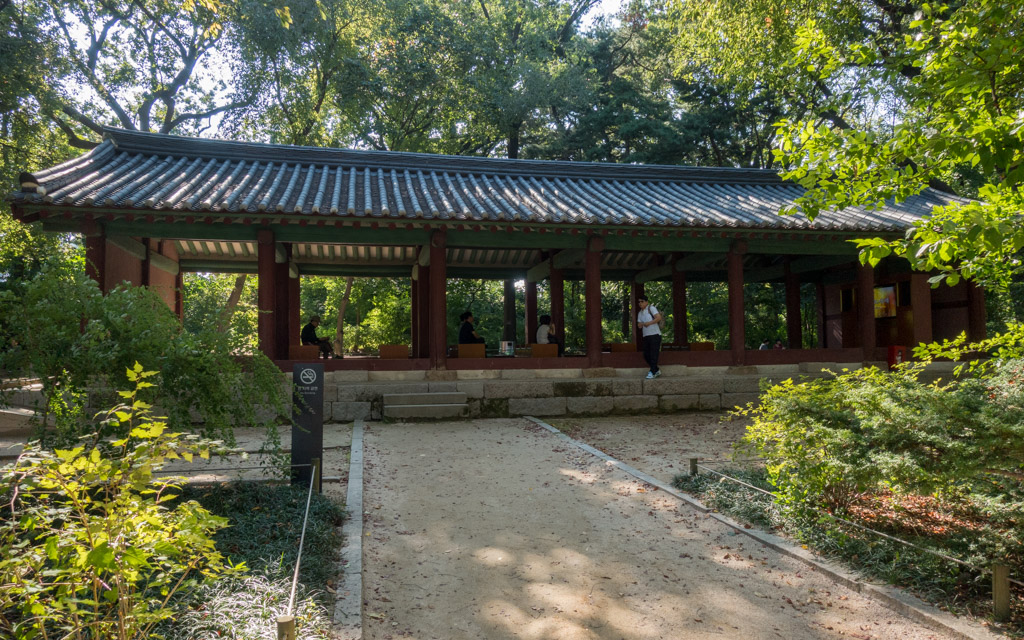 Jongmyo Shrine & Jokyesa Temple
Jongmyo is a Confucian shrine dedicated to the perpetuation of memorial services for the deceased kings and queens of the Korean Joseon Dynasty. According to UNESCO, the shrine is the oldest royal Confucian shrine preserved and the ritual ceremonies continue a tradition established in the 14th century. Jogyesa is the chief temple of the Jogye Order of Korean Buddhism, becoming so in 1936. It thus plays a leading role in the current state of Seon Buddhism in South Korea.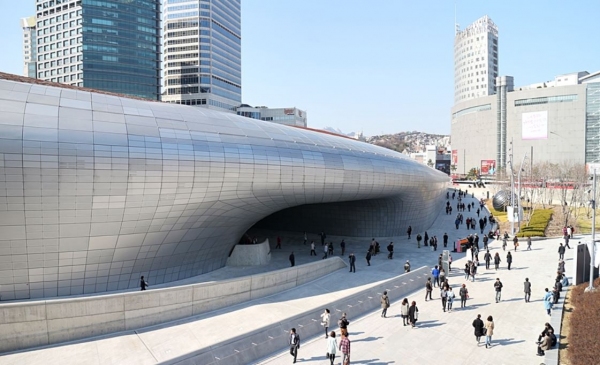 Dongdaemun Design Plaza
The Dongdaemun Design Plaza, also called the DDP, is a major urban development landmark in Seoul, South Korea designed by Zaha Hadid and Samoo, with a distinctively neofuturistic design characterized by the "powerful, curving forms of elongated structures".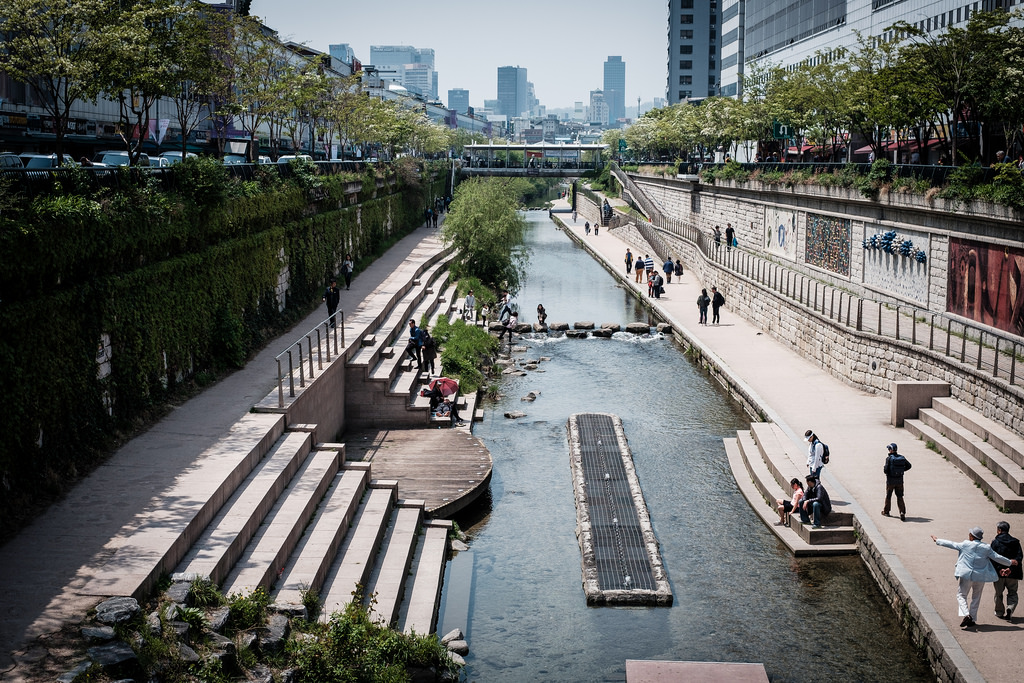 Cheonggyecheon Stream
Cheonggyecheon is a 10.9-kilometre-long, modern public recreation space in downtown Seoul, South Korea. The massive urban renewal project is on the site of a stream that flowed before the rapid post-war economic development caused it to be covered by transportation infrastructure.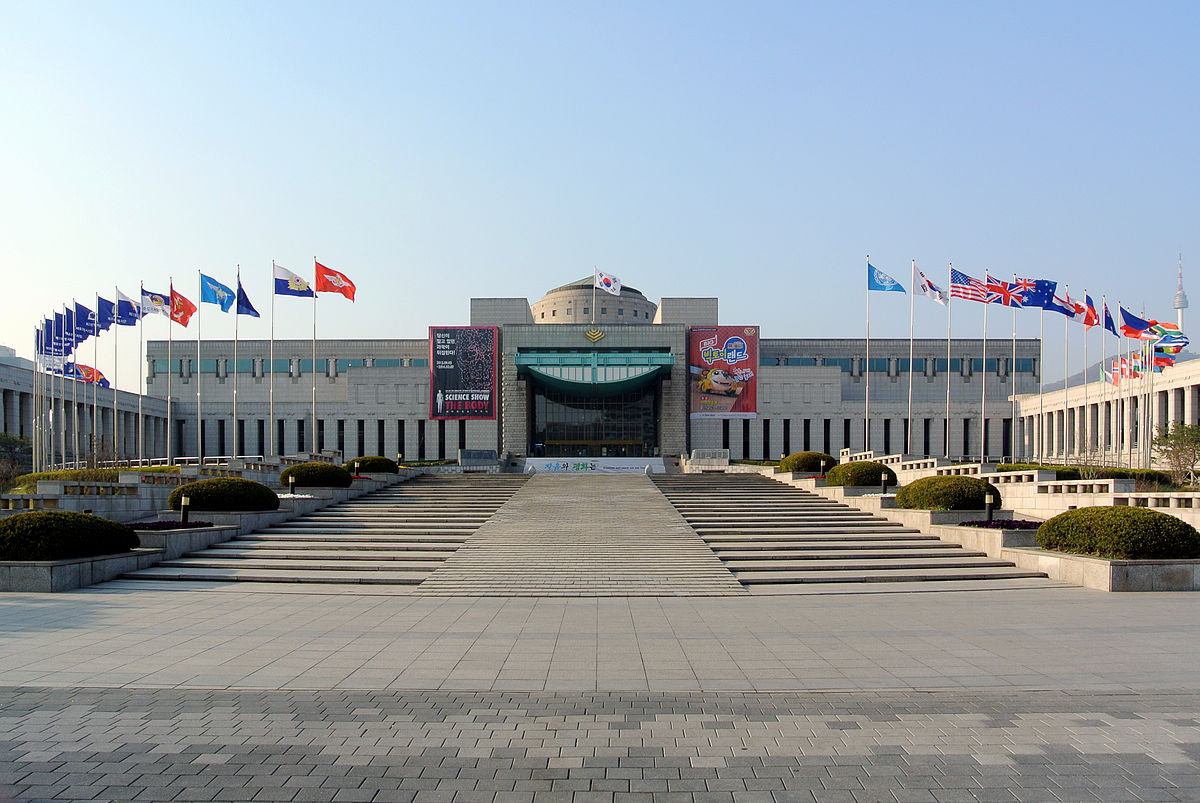 The War Memorial of Korea
The War Memorial of Korea, located in Yongsan-gu, Seoul, exhibits and preserve materials related to the Korean War and serves as a national moral educational venue. It was established to commemorate the noble sacrifice of patriotic martyrs by the War Memorial Service Korea Society on June 10, 1994. The museum houses approximately 33,000 artifacts with about 10,000 on display at an indoor and outside exhibition halls.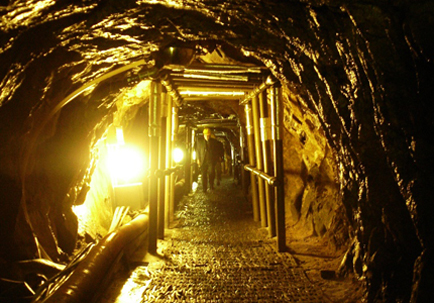 3rd Infiltration Tunnel & Exhibition Hall
Before 1975, the 3rd Infiltration Tunnel was unknown. It was not until 1975 that a North Korean defector named Kim Bu-seong claimed that the north had built a secret passageway across the demilitarized zone for the main purpose of invading the south. You will go through the tunnel and experience this secret passageway first hand. Cameras may not be permitted inside.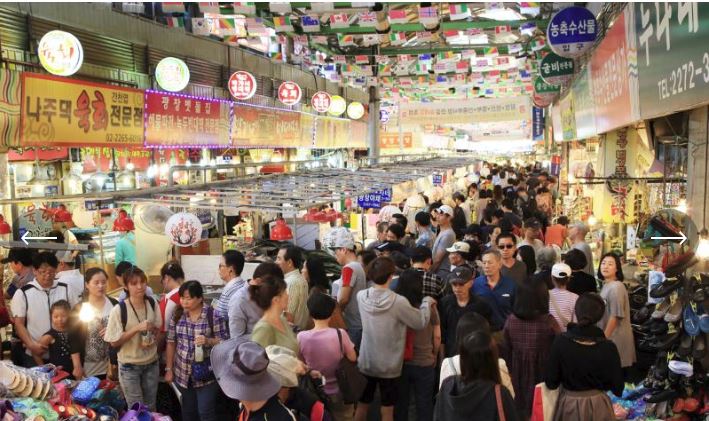 Gwangjang Market
Gwangjang Market is one of Korea's largest traditional markets and the first permanently established market that open everyday. It is renowned for its quality silk goods, linen bedding and hand-made goods. Popular with foreign visitors looking to sample some of the best Korean street foods, if you are looking for an authentic Korean cultural experience, along with some of the best bindaetteok in the city, then look no further.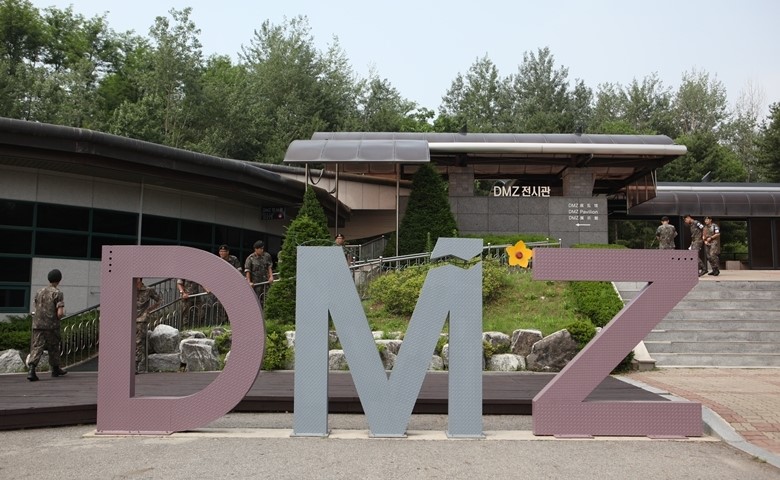 Korean Demilitarized Zone
Imjingak Park is located 50km northwest of Seoul which was built for 5 million people who lost their home. Major facilities includes North Hall where you can get a view of North Korea's lifestyle.
Visit the other famous landmarks in and around the park.
These places includes:
Freedom Bridge
The 3rd Infiltration Tunnel
DMZ Theatre/ Exhibition Hall
Dora Observatory
Dorasan Station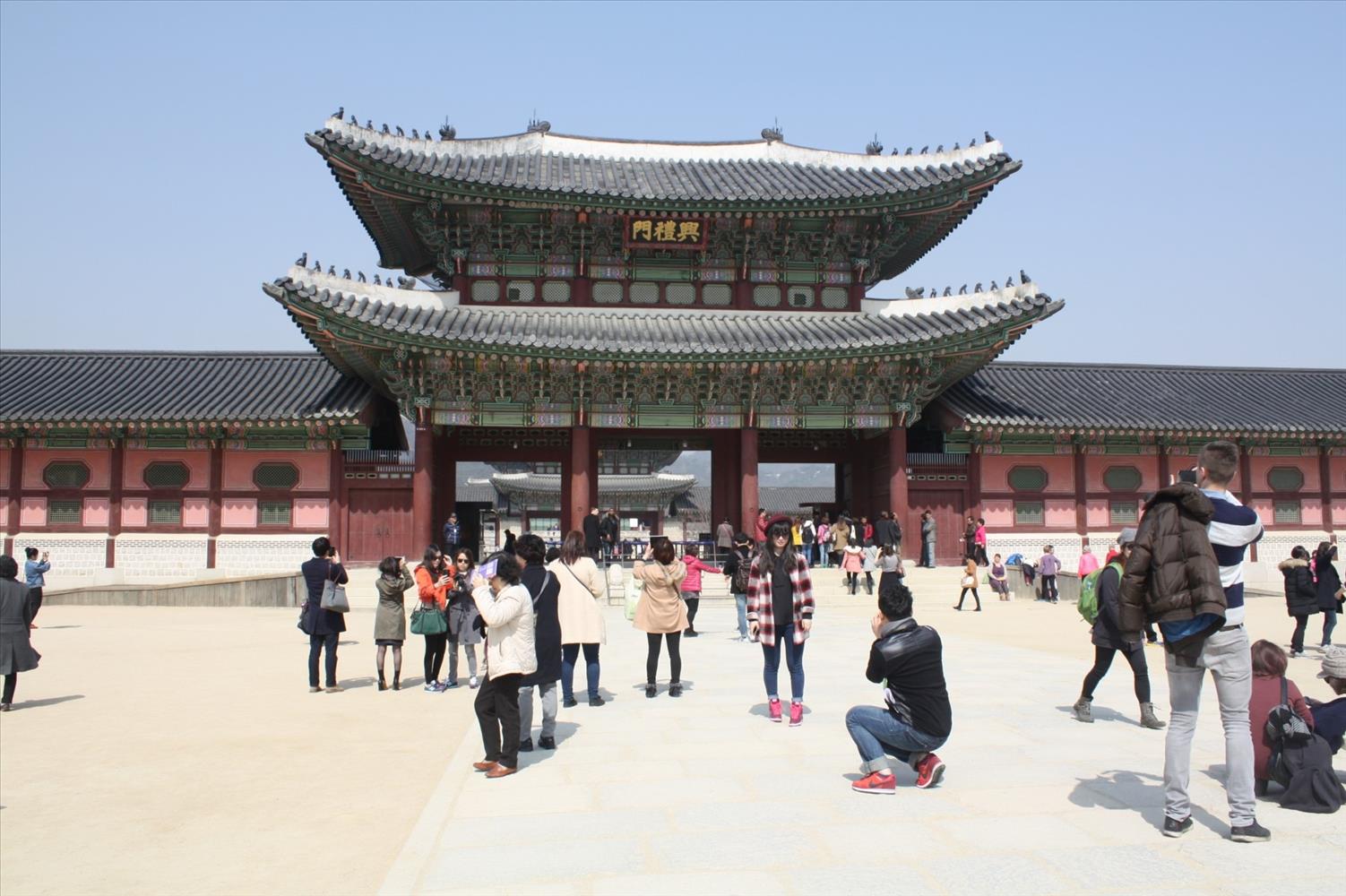 Gyeongbokyung Palace
Built in 1395, Gyeongbokgung Palace is also commonly referred to as the Northern Palace because its location is furthest north when compared to the neighboring palaces of Changdeokgung (Eastern Palace) and Gyeonghuigung (Western Palace) Palace. Gyeongbokgung Palace is arguably the most beautiful, and remains the largest of all five palaces.

The premises were once destroyed by fire during the Imjin War (Japanese Invasions, 1592-1598). However, all of the palace buildings were later restored under the leadership of Heungseondaewongun during the reign of King Gojong (1852-1919).

Remarkably, the most representative edifices of the Joseon Dynasty, Gyeonghoeru Pavilion and Hyangwonjeong Pond have remained relatively intact. Woldae and the sculptures of Geunjeongjeon (The Royal Audience Chamber) represent past sculptures of contemporary art.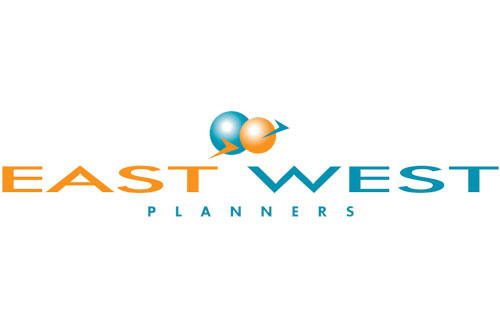 Seoul-Beijing-Chiangmai
Sarah Johnson | 5 Pax | 10-18 May 2018 | Seoul - Beijing - Chiangmai